Located in the Gateway Arts District in Prince George's County, MD, Studio 3807, an upscale apartment community consisting of 147 apartment homes, 6322 square feet of retail space and 3000 square feet of artist studio space, is embracing the surrounding arts community in a unique and comprehensive manner. Peter Siegel, the developer of Studio 3807 and its sister property, Artisan at 4100, has immersed himself in the local neighborhood and is devoted to further improving the community as a whole.
"The more time I spend in the area, meeting people, experiencing the art and taking advantage of the amazing retail, restaurants and studios, the more I want to help promote this special place", said Siegel, CEO, Landex Development. "The Arts play a very critical role in our society; it forces us to push boundaries and take a reflective look at ourselves. As part of the development of Studio 3807, our goal is to promote the arts and the artists of the Gateway Arts District. Landex has commissioned $200,000 worth of art for permanent public display at Studio 3807. Studio 3807 will also have regular scheduled artist talks and curated rotations of art displays for the public. Portico, our 3000 square feet of artist studio and gallery space, will be occupied by local artists. In addition, we are also promoting the area through social media and by sponsoring the design of two sculptural bus stops in front of Studio 3807 and Artisan 4100."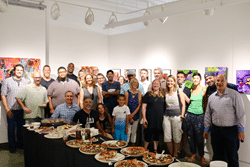 Recently, Landex spent 3 days filming interviews with local stakeholders in the Gateways Arts District. Artists and businesses had the opportunity to discuss and display their work and reflect on this very dynamic, creative and inclusive community.
These interviews were taped on location and will soon be released for public viewing as part of an ongoing marketing campaign, aptly named "Experience The Art of Living." This campaign also includes portraits of local artists displayed on fencing around two construction sites.
Video participants include John Paradiso (mixed media artist), Valerie Theberge (mosaic sculptor), Krista Schlyer (photographer), Wayson Jones (mixed media artist), Valerie Watson (painter), Laurie Breen (mixed media artist), Laurel Lukaszewski (clay sculptor), Jay Coleman (painter/muralist), Melissa Glasser (painter /muralist), Tom Hill (painter), Barbara Johnson (founder and director of Art Works Now), Liza Linder (mixed media artist), Allen Linder (sculptor), Phil Davis (Director of the Brentwood Arts Exchange), Sean Hennessey (glass artist), David Mordino (sculptor), Juliana Vallejo (painter ), Neena Narayana and Barbara Goliday (Joe's Movement Emporium), Chanel Comptom (Prince George's County African American Museum and Cultural Center), Michael Janis and Tim Tate (glass artists and co-founders of the Washington Glass School), Ruth Gresser (chef and owner of Pizza Paradiso), Alma Selimovic (sculptor) Gloria Chappa (mixed media artist), Pat Thornton, Ryan Stubbs, and Anthony Lee (Gateway CDC), Jodi Ferrier (painter ), Katie Dell Kaufman (mixed media artist), Kate Davis (Director of Pyramid Atlantic), Elisabeth Jacobsen (mixed media artist), Stuart Eisenberg (Hyattsville CDC) and Peter Siegel (CEO, Landex Development, LLC).
"We are thrilled to be a part of the Gateway Arts District and are committed to helping the area continue to develop as a focal point for celebrating the richness and diversity of its community members," said Siegel. "Our goal is to support the arts community and celebrate what makes the neighborhood and surrounding neighborhoods special."
The Gateway Arts District was established by the Prince George's County government in 2001 as an Arts and Entertainment District to use the arts to promote economic development. The Gateway Arts District is a focal point for art activities of all types, as well as for socializing, entertaining, dining, shopping, and living. It offers the richness and diversity of the metropolitan region, but retains at its core the heart of the four small towns: Mount Rainier, Brentwood, North Brentwood, and Hyattsville. Spanning two miles along Route 1 Baltimore/Rhode Island Avenue, with quick access to the MARC, two Green Line stations, and several bus lines to Mount Rainier, the Gateway Arts District is the perfect home for artists, art-lovers, families, commuting professionals, and students. The rich artistic diversity of the area results in a variety of restaurants, coffee houses, local and regional theatres, galleries and entertainment, as well as arts-related businesses such as arts and crafts stores, designers, and art supply stores that support and extend the influence and economic vitality of the artists' community.
Landex Development is a family-owned real estate development company founded in 1983 and specializing in the formation of public/private partnerships for the acquisition, rehabilitation, and new construction of market rate, mixed-income, and affordable multi-family housing communities in urban settings, including in Maryland, Florida, Massachusetts, Pennsylvania, Missouri, North Carolina, New Jersey, Utah, Virginia, Washington, and the District of Columbia. The firm has developed and operated over 7,500 high-quality, well-constructed, and well managed multi-family housing apartments for lease.