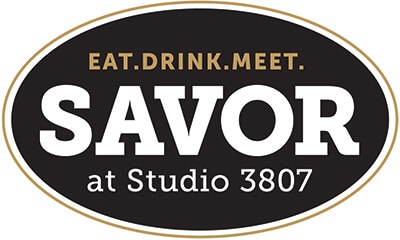 As a committed supporter of  the arts community, we have also created an exciting culinary space so residents and neighbors can explore a variety of exciting local culinary options.
Savor at Studio 3807 is a 6300 square foot open artisanal restaurant concept which features several food vendors and space for patrons to meet, eat and socialize.  The focus of this space will be to act as a launching pad for future restauranteurs and assist new food ventures by providing space and mentoring from local experts.
In addition to the vendors listed below, there will also be pop up stands where new food concepts can be enjoyed by local patrons and a small stage for live music performances.
Savor at 3807 will be operated by April Richardson, a seasoned expert and owner of Delectable Cakery and DC Sweet Potato. We are proud to have the opportunity to support her commitment to bringing  new and exciting food options to Prince Georges County.
Meet the vendors at Savor at 3807
Coffee, Cake & Conversation
A popular bakery in the DMV brings its amazing desserts, superb coffee and a fun American fare and brunch menu to Savor at 3807. Our mission is simple: We Bake, We Love, We Inspire.
Year-Round Farmers Market and Artisan Fair
An exciting combination of urban farming and handmade arts and crafts.  Relish Market & Agora an Artisan's Market teamed up to bring an indoor farmers market offering seasonal fruits, vegetables, as well as handmade soaps, jewelry, essential oils, preserves, snacks, local teas, honey and all things crafty.
Handcrafted Cocktails Paired with Small Plates
Community Cocktail is a comfortable neighborhood gathering spot that serves beautifully crafted, high end craft cocktails partnered with delicious small plates. Our beverage and food offerings are regionally influenced and whenever possible, we use locally sourced ingredients.