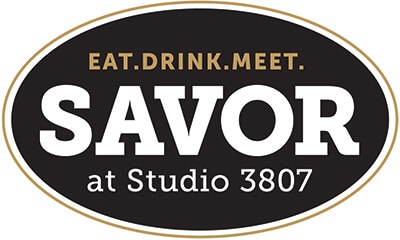 As a committed supporter of  the arts community, we have also created an exciting culinary space so residents and neighbors can explore a variety of exciting local culinary options.
Savor at Studio 3807 is a 6300 square foot open artisanal restaurant concept which features several food vendors and space for patrons to meet, eat and socialize.  The focus of this space will be to act as a launching pad for future restauranteurs and assist new food ventures by providing space and mentoring from local experts.
In addition to the vendors listed below, there will also be pop up stands where new food concepts can be enjoyed by local patrons and a small stage for live music performances.
Savor at 3807 will be operated by April Richardson, a seasoned expert and owner of Delectable Cakery and DC Sweet Potato. We are proud to have the opportunity to support her commitment to bringing  new and exciting food options to Prince Georges County.
Coffee, Cake & Conversation
A popular bakery in the DMV brings its amazing desserts, superb coffee and a fun American fare and brunch menu to Savor at 3807. Our mission is simple: We Bake, We Love, We Inspire.
VossFood
Every time you eat is an opportunity to nourish your body. VossFood is a plant based food apothecary. A healthy outside starts with the inside and VossFood is here to get you started.
Curated DMV
Curated DMV features Artisans that are: designers, artists, & emerging brands that sell high-quality handcrafted, well-designed products in a range of categories including jewelry, clothing, home décor, art, apothecary, men goods, stationery, kids items, pottery, and more!
Relish Market
Relish Market is a year round indoor farmers market that offers local and seasonal fruits, vegetables and artisanal spices. Whether it's basic home supplies or tonight's missing ingredient, Relish Market is here for your convenience.
Community Cocktail
A reprieve from the unexpected, a cocktail bar redefined. Community cocktail serves classically inspired cocktails and modern spirits. Whether you're enjoying our house Savor lager or a glass of wine, our focus is on flavor, presentation, and service. There is something for everyone to enjoy no matter the occasion.
LuvPlates
Located in the D.C Metro Area. LuvPlates Soul and Grill is a collaboration between two childhood friends that share a passion for Caribbean dishes and Homestyle Food.
Little Miner Taco
18th-century silver miners in Mexico would wrap gun powder in paper to create makeshift explosives that would allow them to do their job. These explosives were named "tacos". During lunch, the miners would wrap meat with tortillas and began calling them "tacos". This is how the taco was born. Little Miner Taco is a local, from scratch taqueria in Savor Food Hall at Studio 3807. Authentic flavors sourcing local ingredients.
Redemption Roasters
The Redemption Coffee Brand is the regions' newest coffee roaster with a twist. The mission of this tiny emerging coffee brand is to teach returning citizens the art of roasting beautiful and aromatic coffee.
The Uncaged Chef
The Uncaged Chef is constantly innovating, creating delicious dishes and is constantly pushing the edge of culinary art. Known for its exciting brunches, this exciting food concept has a constantly changing menu that reflects the seasons and the Chef's creative culinary moods.